The Needles Park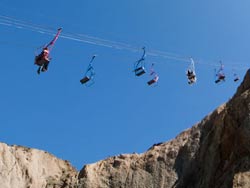 The Needles Park
Alum Bay
Isle of Wight
PO39 0JD

Tel: 0871 720 0022
About The Needles Park
World famous coloured sand cliffs overlook the Isle of Wight's most famous landmark – The Needles Rocks and Lighthouse. The Needles Park offers a range of attractions including the spectacular chairlift to the beach, Alum Bay Glass and Sweet Manufactory; the perfect packed day out for all the family.

The Needles park is free to enter - rides and other attractions are pay-as-you-go.
Attractions
Rides
Pay as you go rides include Teacups, Junior Driver where Children aged 4 – 11 can get behind the wheel and drive an electric car or truck around a realistic purpose built roadway. Jurassic Golf a prehistoric adventure golf courseand traditional Victorian horse Carousel ride.
Sweet Manufactory
Enjoy hand made hard boiled sweets in every imaginable flavour from the firm favourite rhubarb and custard to our very own special Wight Mints.
Coloured Sands
Create your own souvenir from Alum Bay sand directly from the beach. Chose from a multitude of different glass shape and fill them with layers of different coloured sand.
You can choose from a variety of glass or plastic shapes to fill yourself with the 21 shades of Alum Bay Sand or you can buy a ready filled item with handcrafted designs created by our very own sand expert. These colourful items make a wonderful reminder of your holiday on the Isle of Wight but equally are a fantastic and unique gift for someone special.

Glass Studio
Observe fascinating displaysof glass blowing with live demonstrations provided by skilled craftsmen at Alum Bay Glass.
Craftsmen work their magic to create stunning perfume bottles, vases, bowls and ornaments in a wide range of colours, shapes and sizes. There is also a large selection of glass wear to purchase
Chairlift
The Needles Park Chairlift is the best way to see the Isle of Wight's most famous landmark. Visitors can ride down to the beach in one of the 50 chairs from the top of the cliff to Alum Bay Beach and back. The views are truly spectacular from the picturesque Needles Rocks and Lighthouse to the multi-coloured sand cliffs.
When you arrive at the beach you could chose to take a boat trip for a close up view of the Needles Rocks and Lighthouse.

Places of Interest