Isle of Wight Trains
Island Line Trains
The quickest way to travel between the popular seaside resorts of Ryde and Shanklin is the Islandline train service which is so efficient it's actually the most punctual railway service in the entire country. Like all things Isle of Wight even the train has an old world charm and is actually a 1930's northernline tube train which has been well restored.
Trains run from 6am until midnight servicing Ryde, Smallbrook, Brading, Sandown, Lake and Shanklin. Note that from Smallbrook Junction you can join the Isle of Wight Steam Railway. Season tickets are available from islandlinetrains.co.uk or by calling 0845 6000 650.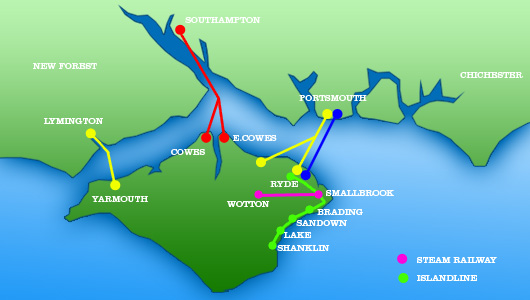 Isle of Wight Steam Railway
A fantastic day out can be had at the Isle of WIght steam railway where you can enjoy a ride in restored Victorian and Edwardian carriages pulled by steam locomotives. The journey takes you on a five and half mile route from Wotton to Smallbrook junction. Young children(0-4 years) travel for free, children's tickets start at £5 and adults at £9.50. Tickets give a days unlimited travel.
Also worth a look is 'Folkstation' a three day folk music festival held at Havenstreet station.
Places of Interest