Yarmouth
Yarmouth being one of the islands oldest towns, a good eight hundred years, and situated on the seafront at the mouth of the islands second river offers a unique atmosphere. With its medieval castle and winding streets Yarmouth really feels like no other place on the island and if you've just stepped off the busy ferry port here you might just think you've taken the wrong boat and arrived at one of the channel islands instead.

Yarmouth is an affluent area and its grand buildings are good examples of architectural styles from Norman up through to Victorian, many of these buildings house the smart shops pubs and restaurants in this small but charming town. The nautical theme here is strong reflected in its annual 'Old Gaffers' festival in June where the entire town joins in the celebrations and is a must see for anyone who can attend. The beach at Yarmouth is very small and not easily accessible but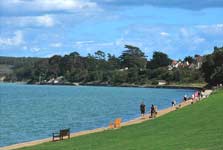 travelling around Yarmouth throughout the west Wight gives you the opportunity to sample a wide range of stunning beaches fit for all the family. Near Yarmouth on the road west towards Freshwater is Fort Victoria, a coastal sea defence built in the Napoleonic era used to house a substantial amount of cannons. Now these arched spaces are the home of a variety of tourist attractions including a model railway, a planetarium, an underwater archaeological centre and a marine aquarium. Around Fort Victoria is a seashore and woodland park with great views across the Solent of Hurst Castle, another grand sea defence built even earlier which can be visited by taking a boat trip from Yarmouth for the day.
Fascinating fact
The Isle of Wight has always been a strategic place of attack from foreign invaders and in 1377 when the French invaded the island Yarmouth along with the then capital of the island Newtown took the brunt of the attack. Yarmouth was sacked and recovered but Newtown did not and the capital was later changed to Newport. Another attack in 1524 destroyed the towns church but this too was rebuilt. These attacks persisted until Henry VIII built Yarmouth Castle which was completed after his death in 1547. Yarmouth Castle now run by English Heritage is a museum and a good example of Medieval stone architecture.
Yarmouth is not just a small town its actually the smallest town in England. Bizarrely near Yarmouth is Freshwater village which is actually the biggest village in Britain. Even though its size dwarfs Yarmouth it does not qualify as a town as it only has a village hall.
Isle of Wight Attractions