Ventnor
The famous Victorian author, Charles Dickens, was mesmerised by the beauty of The Isle of Wight. He once wrote about Ventnor, saying: "The views from the top of the Downs are only equalled by shores found in the Mediterranean."

With its terraced town, broad south-facing beach and blue sea, you can understand why many poets, writers and artists have found fond things to say about this majestic town. The unique Undercliff coastline extends seven miles from Luccombe in the east to the grand St. Catherine's Lighthouse in the west.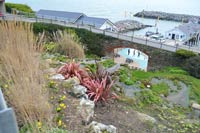 Due to its geographic position, with Ventnor being protected from the northerly winds by high cliffs, an almost sub-tropical environment has been created where many species of plants that will not grow in other parts of the UK, can be found to thrive there. Ventnor Botanical Gardens takes full advantage of this rare climate by displaying a vast kaleidoscope of plants and trees whose origins lie in the far corners of the earth. Walk through the gardens, down steep steps and arrive at Steephill Cove with its pretty cottages and a café from which to admire the view. It's a hidden gem.
St Boniface Down – the Isle of Wight's highest point – provides a charming backdrop to the traditional family seaside resort of Ventnor. Ramblers are rewarded with stunning views across the whole of the island and out to sea. It's a spectacular sight – not to be missed.
Along the promenade at Ventnor are cafés, bars and individual properties which, grouped together, give a pleasant, cosmopolitan feel. Looking upwards will reward you with a magnificent view of all the houses clinging to the hillside, and whose windows are lit up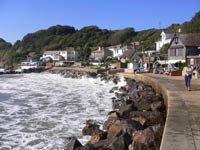 when dark, giving the impression of fairy lights. It's magical.

Ventnor town contains plenty of individual shops and cafés, providing an interesting mix of crafts, antiques, books and fine arts. A walk or drive down the steep, curved road will take you from the town to the promenade. You'll pass the house where Sir Edward Elgar and his bride spent their honeymoon (the house displays a plaque commemorating the occasion).

A small walk eastwards brings you to Bonchurch, a picturesque fishing village that seems locked in time with its quaint cottages, grand imposing Victorian mansions and visually seductive village pond. Bonchurch still brings in fresh seafood to be enjoyed at the local cafés and restaurants. Charles Dickens wrote much of David Copperfield whilst living in Bonchurch in what is now Winterbourne Country House. Algernon Charles Swinburne – the famed Victorian poet – lived in Bonchurch at East Dene, and his funeral was held in Bonchurch, under great controversy for the time.
To the south-west you will find the charming village of St. Lawrence; home to the Isle of Wight Studio Glass, which is known internationally for its highly imaginative and creative techniques of handmade glass-making. The beach at St. Lawrence is rocky and rugged with many rock pools to explore at low tide.

Fascinating fact
Guglielmo Marconi, born in 1874 and inventor of the wireless telegraph, lived temporarily near St. Catherine's lighthouse in Niton – to the south-west of Ventnor – during the late 1890s and early 1900s. Here in 1897, he transmitted the first wireless message across open water from Alum Bay in Totland to Haven Hotel in Poole; a good three kilometres away over the Solent.
Ventnor houses Britain's largest colony of wall lizards which can be seen sunbathing on many of the stone-walled buildings found in and around the area. In fact, Ventnor Botanical Gardens has a specially-designed habitat where visitors may come and view these rare creatures.

Isle of Wight Attractions